Allianz Salud is a policy that is adapted to customers' different personal, financial and family requirements.
Competitive advantages.
1. Allianz Seguros means prestige and this means a quality product adapted to your requirements with the highest quality.
2. Waiting lists, excessive "paperwork" to access tests and specialists, insufficient personalised service… these will no longer be problems for you.
3. Unlimited hospitalisation: the time that you need, without worrying about additional costs (except psychiatry).
4. Dental Health insurance is included without additional cost. Free on all Allianz policies.
5. The possibility of surgery without blood or blood products is always included.
6. Tax benefits for self-employed people and companies.
7. Allianz collaborates with the best in the field to offer the highest level of quality: Navarre University Clinic (specialists in serious illnesses), Baviera Clinic (specialists in myopia correction with laser treatment), the best stem cell Family Banks, etc.
8. Full orientation for the insured party: telephone customer service 24 hours a day to assist with any administration procedure and respond to any query.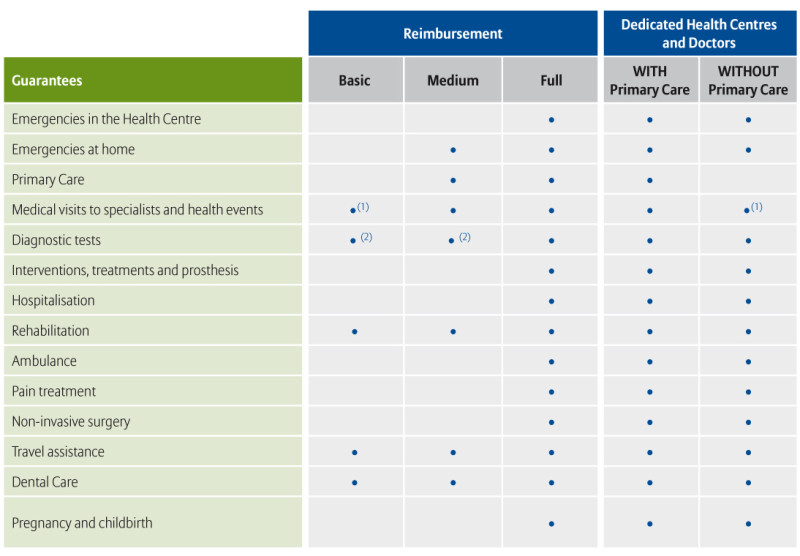 The insured person may attend any medical centre in the world and Allianz will reimburse 90% of the bill (within the maximum established limits) or may attend any Allianz appointed doctor or medical centre without any payment outlay.

Choose the best option for you.

BASIC
If you are looking for…
• A customised price.
• Avoiding long waiting lists.
• Complete the Public Health service efficiently.
• You consider a maximum reimbursement of 110,000 per year is sufficient.

MEDIUM
If you prefer…
• In addition to all the above, improved primary care including: General medicine, paediatrics and ATS.
• You would like the maximum rebate increased to 120,000 per year.

FULL
If you want it all…
• A complete health insurance policy of the highest quality.
• With all the above in addition to hospitalisation, all types of emergencies, etc.
• You would like the maximum rebate increased to 200,000 per year.